Special Edition #2 - Purple Striped Jellyfish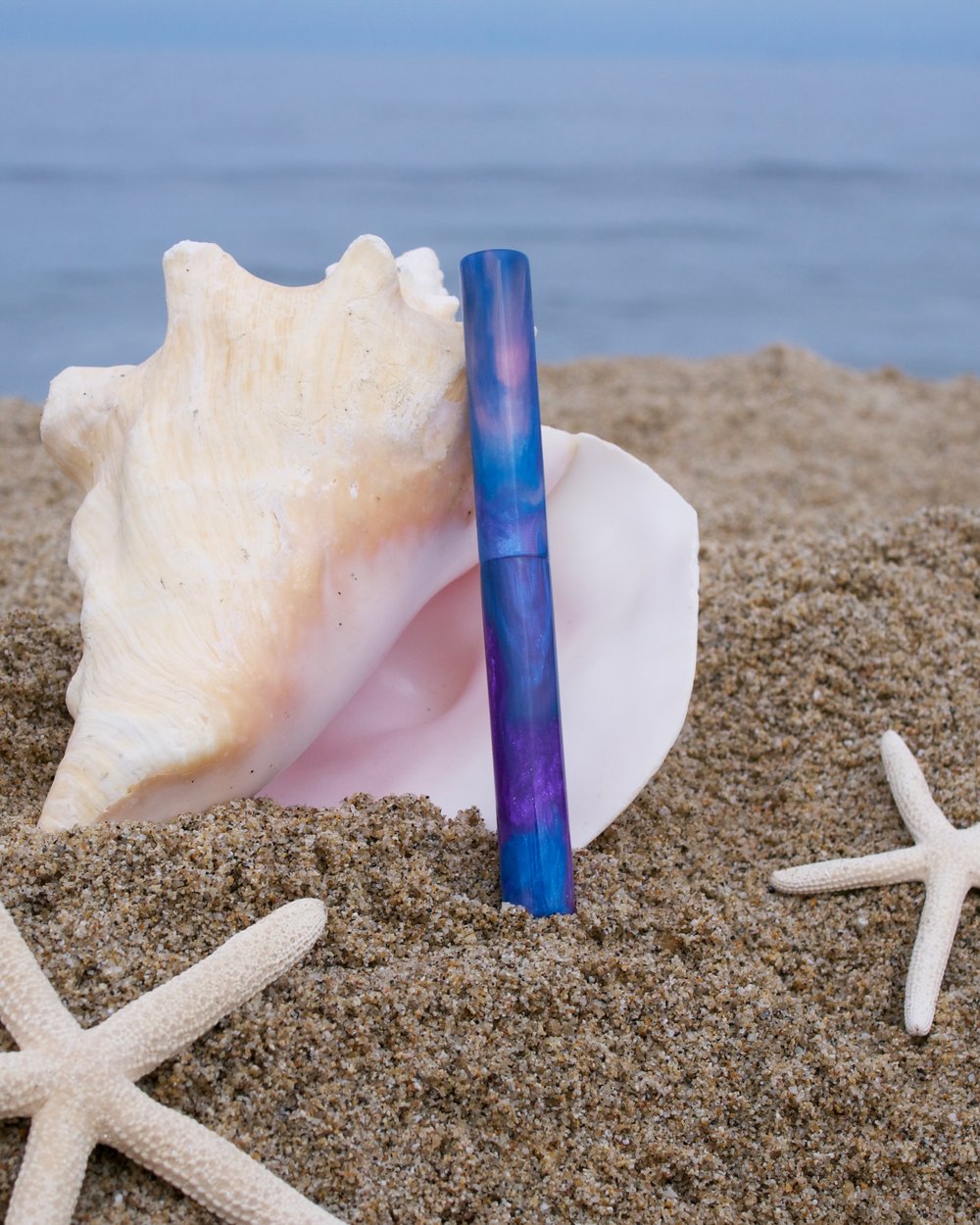 Our second custom pen collaboration was made in partnership with Shawn Newton of Newton Pens and Gena Salorino of Custom Nib Studio. Only 24 pens are available and they will not be made again. Each pen comes with a numbered and signed certificate of authenticity. This edition also features a custom nib grind, a 30mL bottle of our exclusive Vinta Inks Purple Sea Star, and an ocean blue Freiheit notebook.
The Material: Purple Striped Jellyfish is a unique blank made only for this edition, bringing in purple, blue, and pink hues along with plenty of shimmer and pearlescence throughout. Each pen comes with a standard converter.
The Pen: Shawn Newton made these pens using his popular "Eastman" design. Each pen was custom made by Shawn in his Arkansas shop and features a straight profile 15mm barrel and cap with flat ends. Approximate length is 145mm when closed and 135mm uncapped. The pen cap is etched with the Newton Pens logo, and does not post.
The Nib: Each nib started as Jowo #6 broad with the Newton Pens logo engraved. Gena Salorino took each nib and modified using their Reverse Architect grind. This grind can write as a broad on the standard side and features the Architect Point on the reverse of the nib. This allows you to have a more usable nib for normal writing, but access to a more expressive nib on the reverse.
The Ink: Vinta Inks Purple Sea Star 2022 (Tabuan) is a collaboration unique to Enigma Blanks. Each 30mL bottle features a purple shade with hints of pink and blue to compliment the pen it was designed to accompany.
The Notebook: Each Freiheit Ocean Blue notebook offers a slim design with 80 sheets of unlined fountain pen friendly paper, with an elastic strap for convenient travel use.
Expedited shipping is included for customers in the United States, and a discounted flat rate is available for International customers.
A full review of the set is available at The Well-Appointed Desk.
Please see the Special Edition FAQ page for additional information and our return policy.